About Elena M. Sliepcevich
Main Content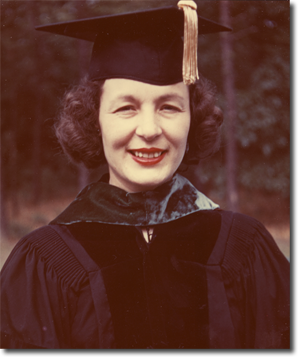 Widely renowned as a leading health educator in the United States, Dr. Elena M. Sliepcevich directed the national School Health Education Study (SHES) from 1961 to 1972. SHES was the most comprehensive and largest curriculum development project in the history of the profession. As the only national curriculum created without federal funds, its conceptual approach remains the innovative benchmark for organizing knowledge and structuring learning opportunities that mutually benefit goals of public health and education. Most health education curricula developed since have been based on the 10 conceptual areas identified by the School Health Education Study series. In addition to SHES, Dr. Sliepcevich was a prolific writer, visionary, pioneer in development of patient education, recognized for her extensive research, mentor to colleagues and numerous doctoral and Master's degree students, and recipient of many highly respected national awards. 
Besides her nationally recognized SHES contributions, Dr. Elena M. Sliepcevich was among the exceptional group of faculty assembled at Southern Illinois University Carbondale (SIU) by Dr. Donald N. Boydston, Department Chair (1955 – 1988). Dr. Sliepcevich was a Professor of Health Education and the School of Medicine at SIU from 1973 until her retirement in 1992. During this time, she also organized the first national conference on "Patient Education" entitled "Rx for Health" giving prominence to this area of study. Proceedings from this conference included Dr. Larry Green's initial publication associated with what would later become his extensively used PRECEDE and later, with Marshall Kreuter into a fourth edition, PRECEDE-PROCEED Model.
While a Professor at SIUC, Dr. Sliepcevich became a Fellow of the Society for Public Health Education in 1972. She was the first professional to receive the American Association for Health Education (AAHE) Scholar Award (1977) to recognize her scholarly publications and presentations related to health promotion/education. In 1979, she was recipient of the Luther Halsey Gulick Medal, the highest honor the American Alliance for Health, Physical Education, Recreation and Dance (AAHPERD) can bestow in recognition of long and distinguished service.
Prior to being Director of SHES and her career at SIUC, Dr. Sliepcevich was Professor and Coordinator of Health Education at The Ohio State University from 1956 to 1961. She was also a Visiting Professor during summer sessions at the University of Florida, University of California in Los Angeles, the University of Oregon, and Colorado State College.
She was Assistant Dean of Women and Director / Assistant Professor of Health and Physical Education at Western Montana College from 1946 to 1948. She taught Health Education from 1949 to 1955 at Springfield (MA) College becoming Professor and Director of Health Education from 1955-1956. From 1939 to 1946 she was Co-Director of a Youth Center and taught junior high school and high school.
At the age of 17, Elena M. Sliepcevich became the youngest student in the state of Montana to earn an elementary teaching certificate. A 1939 graduate of the University of Idaho, Elena received her Master's degree from the University of Michigan in 1949. She was the first woman awarded the D.P.E. in Interdisciplinary Studies by Springfield College in 1955.
Dr. Sliepcevich was born in Anaconda, Montana July 29, 1919. She and her two siblings, Natalie Sliepcevich and Cedomir M. "Cheddy" Sliepcevich, were first generation children of Serbian parents Maksim and Jovanka Sliepcevich from Hercegovina. Each of the three children became widely recognized leaders in their respective fields of Library Science, Health Education, and Chemical Engineering.
Dr. Elena M. Sliepcevich passed away in Norman, Oklahoma on March 3, 2008.